Introduction
Event registration management can be a challenging task, especially for large-scale events with hundreds or thousands of attendees. However, with the right strategies and tools in place, it is possible to streamline the registration process and make it more efficient. In this blog post, we will discuss some of the best practices for managing event registrations efficiently.

The best practices for managing event registrations
▸ Use Online Registration Forms
One of the most effective ways to manage event registrations is to use online registration forms. These forms can be easily created and customized to meet the specific needs of your event. They can be embedded on your website, shared via email or social media, and even embedded on other websites. Online registration forms make it easy for attendees to register for your event, and they can also be used to collect important information such as contact details, dietary restrictions, and special needs.
A powerful online event registration tool can also help you sell your event services and increase your revenues. For example, you can sell accommodation, tour, transfer, or maybe a gala dinner by simply adding them to your registration form and allowing your attendees to book the services they wish. You may get the necessary data from attendees regarding the services they chose by including custom questions in your form. As you may guess, this feature is a terrific aid for preparing a realistic logistic plan and it unquestionably helps you save money.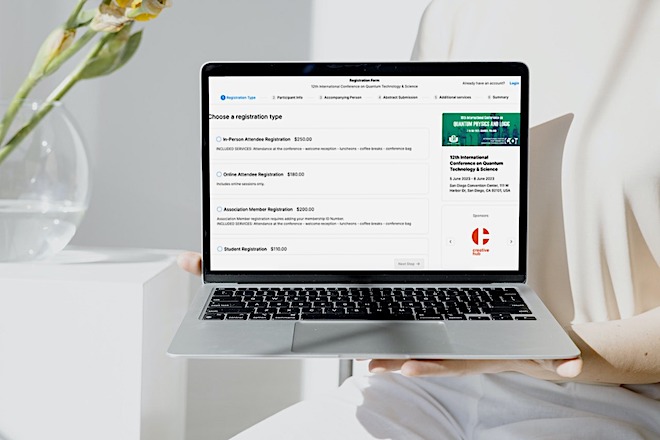 Another advantage of using an online registration platform is the ability to give each attendee a participant account. Your participants will love to manage and track their attendance, download their invoices, or make online payments through their accounts. Additionally, participants can submit abstracts at academic events and follow the review process on their accounts. By adding their contact details, bios, or headshot pictures to their accounts, participants can create attendee profiles that they can share with other attendees. Having such an attendance account provided is also a fantastic way to send participants direct emails or notifications without worrying about spam filters or firewalls.

How to Create an Efficient Event Registration Form?
Creating an efficient event registration form and collecting attendee information is crucial to the success of any event. Here are some useful tips to create an effective form and gather the information you need: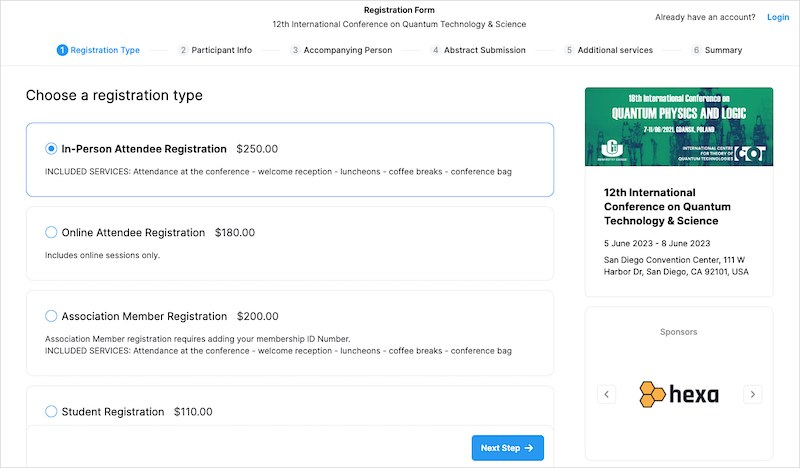 Keep it simple
The form should be easy to understand and complete. Avoid using jargon or technical terms that may confuse attendees.
Only ask for the necessary information
Only ask for information that is essential for the event. This will help to keep the form short and reduce the chance of errors. The most crucial aspect of keeping a registration form brief is to ensure that participants are asked only the pertinent questions based on the registration type they select and this requires to use of an efficient and flexible online event registration management tool like MeetingHand.
Use clear and concise labels
Use clear and concise labels for each field on the form. This will make it easy for attendees to understand what information is being requested.
Provide clear instructions
Provide clear instructions on how to complete the form, including any required fields or specific format requirements.
Make the form mobile-friendly
More and more people are using their mobile devices to access the internet, so it's important to ensure that your form is mobile-friendly. This will make it easier for attendees to register on the go and also increase their attendance at your event.
Use clear call-to-action
Use a clear call-to-action to encourage attendees to complete the form, such as a "Submit" or "Register" button.
Confirmation email
Once registration is complete, send confirmation emails to the attendees with all the details of their registration, including the date and time of the event, the location, and any other important information.
Use event management software
Event management requires the use of the appropriate software, which must be chosen carefully. By automating a number of registration-related operations, such as sending confirmation emails, monitoring payments, verifying registrations, and delivering customized reports, event management software streamlines and simplifies the registration process. By scanning participant QR codes or producing participant badges by using integrated badge printing systems or kiosks, event management software speeds up onsite check-ins too.
Add a Registration Terms and Conditions document to your registration form
A Registration Terms and Conditions document is important to include on your event registration form because it outlines the rules and regulations for participants and sets expectations for their behavior during the event. It also helps protect your organization from potential legal issues by clearly outlining any liability or indemnification terms. Additionally, including this document allows participants to understand the rules and regulations of the event, which will help create a more positive experience for all attendees.
By following these tips, you can create an efficient event registration form and collect the information you need to make your event a success.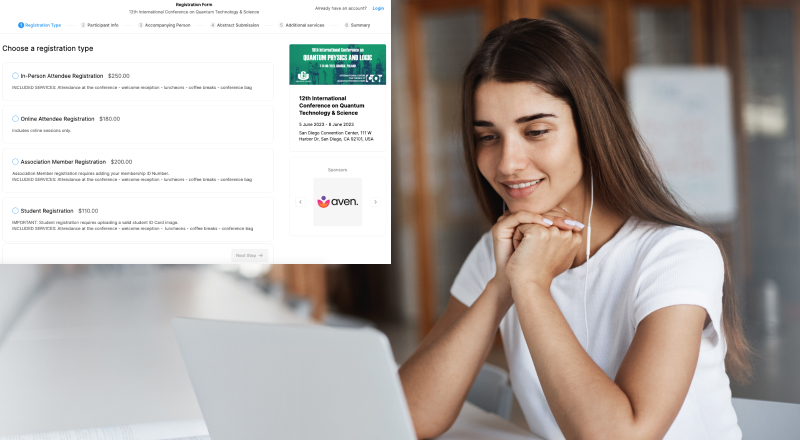 ▸ Use Automated Confirmation Emails
How to create efficient automated confirmation emails as a part of the event registration process?
Automated confirmation emails are an essential part of the registration process. They help to confirm that an attendee's registration has been received and processed, and they also provide important information such as the date, time, and location of the event. Automated confirmation emails can also be used to send out reminders to attendees closer to the event date. They not only provide registrants with important information about the event but also serve as a way to confirm their registration and ensure that they are aware of the details and logistics of the event.
Setting up automated confirmation emails can seem daunting, but with a little planning and preparation, it can be a breeze. Here's a step-by-step guide on how to set up automated confirmation emails for event registrations.
Step 1: Gather event information
Before you can create an automated confirmation email, you need to have all of the necessary information about the event. This includes the date and time, location, dress code, parking instructions, and any other relevant details. Make sure you have this information in a format that can be easily copied and pasted into the email.
Step 2: Create a template
Once you have all of the event information, you can start creating your email template. The template should include a subject line, greeting, event details, a call to action, and a closing. You can use a pre-existing template or create your own. Make sure that the template is visually appealing, easy to read, and easy to understand.
Step 3: Add personalized fields
Personalized fields allow you to add information about the registrant, such as their name and email address. This helps to make the email feel more personal and can increase the chances of the registrant reading and acting on the email. You can add personalized fields such as name, email, and event name to the template by using variables. But this option requires seamless integration of the registration tool and the mailing tool. So, using an event management tool like MeetingHand, which has an embedded emailing system could be the best solution.
Step 4: Test the email
Before you send the confirmation emails to registrants, test them to make sure that all of the information is correct and that the email looks the way you want it to. Test the email with different email clients, such as Gmail, Outlook, and Yahoo, to ensure that it displays correctly across different platforms.
Step 5: Set up the automation
An event management platform like MeetingHand automatically sends confirmation emails on your behalf when participants complete their registrations or make their payments. As a result, you are no longer required to worry about confirmations. The only thing left to do at this point is to turn on the automated emails you wish to send out on your behalf.
Step 6: Monitor and optimize
Once the confirmation emails are sent out, monitor the open and click-through rates. This will give you an idea of how well your emails are performing and allow you to make any necessary changes. You can also use A/B testing to optimize your emails. This will help you to determine which subject lines, headlines, and calls-to-action are most effective.
By following these steps, you can set up automated confirmation emails that provide registrants with all the information they need and confirm their registration for the event. This will not only make the event registration process more efficient, but it will also ensure that registrants are aware of the details and logistics of the event, leading to a more successful event. Last but not least, even if the emails are sent automatically, you should never underestimate the engagement impact of confirmation emails on participants by demonstrating your concern for them.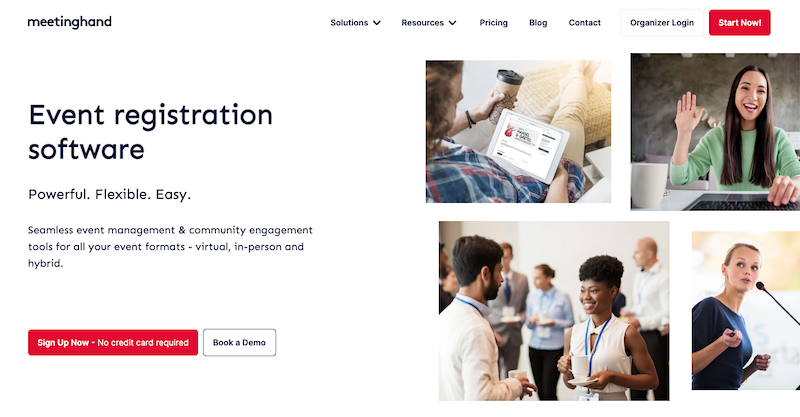 ▸ Use An Event Management Software
Event management software is a valuable tool for managing event registrations. It allows you to create and manage registration forms, send out automated confirmation emails, and track attendee information. Some event management software like MeetingHand also includes features such as ticketing, check-in, discounts, or applying early bird fees and reporting. In fact, the key to a successful event management strategy is the use of event management software.

▸ Communicate Clear and Concise Event Details
Attendees need to know all the essential details of the event such as the date, time, location, and what to expect. Make sure to communicate this information clearly and concisely. This will help to minimize confusion and ensure that attendees have all the information they need to plan for the event.

▸ Use Social Media
Social media is a powerful tool for promoting events and managing event registrations. Share details about your event on social media platforms such as Facebook, Twitter, and LinkedIn. Use these platforms to engage with attendees and provide updates about the event.

▸ Provide Attendee Support Line
In any event you organize, providing an attendee support line is essential for managing event registrations and solving attendance-related matters. Attendees may have questions about the event or about the details of the services you offer. So, it is important to respond to them in a timely and professional manner. This can help to build trust and ensure that attendees have a positive experience.

▸ Follow-up with Attendees
After the event, it's important to follow up with attendees to gather feedback and gauge their overall satisfaction with the registration process, payment channels, registration-related documentation (invoice, badge, etc.), and the support you provided. This can help to identify areas for improvement and make future events even better.

Conclusion
To sum up, effective registration management is crucial to the success of any event. You can speed up the registration process and make sure that your event is a success by using online registration forms, automated confirmation emails, event management software, communicating clear and concise event details, using social media, offering top-notch customer service, and following up with attendees.
However, it appears that the most crucial element of successful event registration management is the use of a dependable online registration management platform. We think MeetingHand offers one of the most powerful and complete event registration solutions that event organizers require.

To learn more about MeetingHand, please BOOK A DEMO WITH US.!